From the Headmaster's Desk
Education Is Not the Filling of a Pail, But the Lighting of a Fire."
- Plutarch
Warm greetings from Sanawar!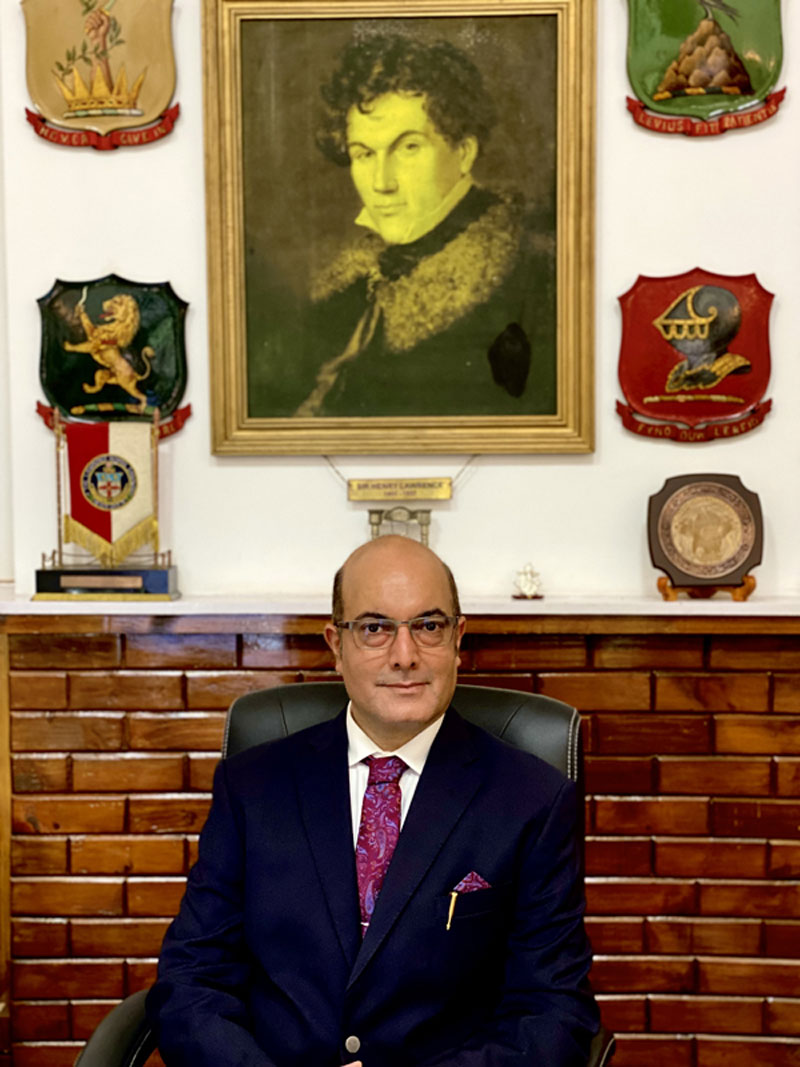 I am pleased to share that I am thankful for your good wishes, the guidance of a most supportive and enlightened Board, a very supportive community, dedicated staff and the blessings of the Almighty! Indeed, it is not only most humbling but also a singular privilege to be entrusted this high honor. I am blessed to be the custodian of The Lawrence School, Sanawar in our Dodransbicentennial Anniversary!
The motto of Sanawar is Never Give In. This motto encapsulates the resilient power of our community and how much we can achieve when we work together. It is a powerful catalyst that will continue to power our vision of a braver, kinder, and better world for the coming generations that we are preparing our students to create. This is the ideal towards which we all strive.
It is most pertinent for me to draw your attention towards our School's Vision:
VISION
To produce a well-rounded, self-confident, positive young person with the following attributes:
An inquiring and fearless mind.
Respectful of others view points.
Believes in the values of social justice and equality.
Leadership skills across the spectrum-social, political, commercial, and cultural.
Ability to stand for others and self.
My personal leadership Vision is aligned with our School's Vision. Indeed, I am inspired by our School's Vision and will strive to extend this principle of community further; to realize that by learning and working together with respect, each one of us can achieve our individual potential. As you all are only too aware, our students, staff, and families have emerged stronger and wiser through an unprecedented and challenging period. In fact, the educational offerings that we all took for granted until recently were not a practical proposition, given the inclement circumstances.
I firmly believe that we need to focus on the most important thing which is to ensure that our students' well-being is safeguarded and that they are kept engaged in the pursuits of learning and developing the faculties of the body and the mind. We need to put learning first and shape our teaching to bring out the best in the children, in our care.
Our aim is to provide a consistent and high quality education to our students and to extend it even outside and beyond the walls of the school. I am happy to acknowledge that we came up with the Facilitated Virtual Learning Programme for our students by which our students continued to receive the highest quality of online education possible during the pandemic.
Our entire team is going above and beyond for which I am most appreciative of the sterling service done by the entire Senior Management Team and the invaluable and selfless contribution of every faculty member. In these trying times they are working collaboratively to go the extra mile for the students' benefit. The entire team is using cutting edge IT and pedagogic resources to continue to support our students' learning and all-round development.
I am aware that there are many challenges along our path but I am very pleased that we have begun our shared journey off together so well. Whatever the challenges, together we will overcome them and get to our destination! Our community, our world needs positivity at the moment and with your help and support we will make this happen!
To conclude, please remember that my door is always open to you. Please do not hesitate to get in touch if you have any queries, concerns or if there is anything I can do to help and support you with your child's learning and school life. I sincerely welcome your feedback and inputs during this year. Let us keep our students as the primary focus of our work.
The entire team and I at Sanawar shall continue to strive to take our school and our students to even greater heights! I can't wait to celebrate our collective successes as we stride towards our Bicentenary.
Never Give In!
With best regards,
Himmat S. Dhillon,
Headmaster,
The Lawrence School, Sanawar.